Jester in Art
Jesters have long held a prominent place in the annals of art, captivating audiences with their infectious mirth and cunning wit. From the strokes of a paintbrush to the chiselling of stone, jesters have been immortalised in various forms of artistic mediums throughout history.
Painting the court jester
The court jester played a vibrant role through the medieval ages to the Tudor times. Artists throughout history have been captivated by the enigmatic and vibrant persona of the court jester.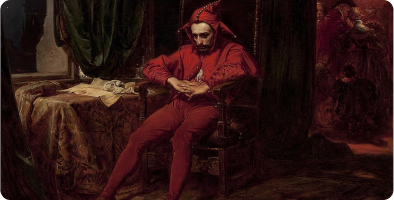 Stańczyk
Titled 'Stańczyk", a painting by Jan Matejko completed in 1862 depicts an interpretation of the famous jester Stańczyk. This jester entertained several Polish kings during his time as a jester, though in this painting his expression is less than jovial.
This painting now hangs in the Warsaw Museum but was stolen during World War II by Nazis before being returned to Poland.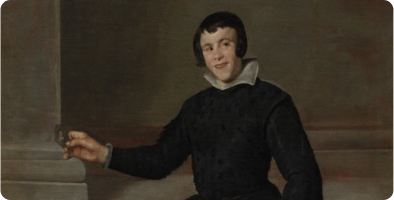 Portrait Of The Jester Calabazas
This painting by Diego Velazquez is an oil on canvas depiction of a jester clad in black, thought to be produced around 1629-32. Velazquez is better known for his painting titled 'Las Meninas' or 'Ladies-in-waiting'. Velazquez added truth to his paintings and captured the essence of Spain and even the royal court during his career.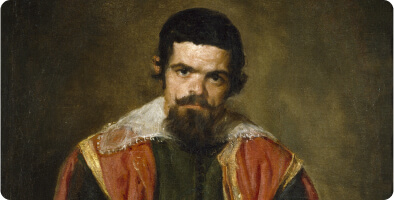 Portrait of Sebastián de Morra
Also by Diego Velazquez, this portrait of the court dwarf jester was created in 1644. Sebastián de Morra pictured here was a jester to Philip IV of Spain. One of the most striking parts of this painting are the eyes of de Morra, they gaze at the viewer calmly and patiently.
The jester de Morraspent his time at the Spanish court entering the young Prince Baltasar Carlos whom he was given to. The Prince cared so much for his jester that after catching smallpox, the Prince gave one of his swords to de Morra before he died.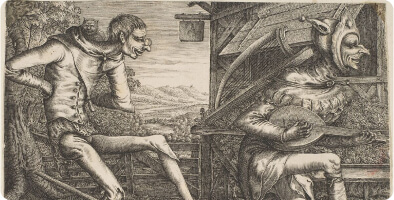 Two Fools Dancing from Two and Three Fools of the Carnival
This engraving by Hendrick Hondius dating back to 1642 shows two fools with jester-like grins. Notable in this artwork is the appearance of a fool's hat, instruments, and a sceptre. These two fools are dressed in the jester fashion, in front of what appears to be a tavern or inn. Just like the travelling entertainers of old, these two perfectly encase the jester folly.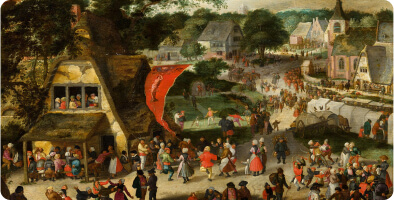 Fair On St Sebastian's Day
The painting titled Fair on St Sebastian's Day, C.1598 is by Jacob I Savery. This perfectly captures the merriment of a medieval fair. If you look closely at this painting, you can see dancing, market stalls, drinking, children playing games, and several colourfully dressed travellers.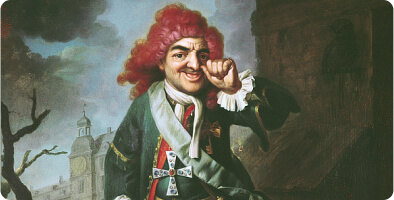 Portrait Of Clemens Perkeo, Fool At The Court Of Heidelberg
This oil on canvas by Dathan, Johann Georg was completed during 1703-1748. This painting shows the Italian dwarf court jester Clemens Pankert dressed in a bright wig, court attire, and smiling coyly. Pankert was a cupbearer and fool and got the nickname "Perkeo" for always relying "perché no" or 'why not' when offered another drink.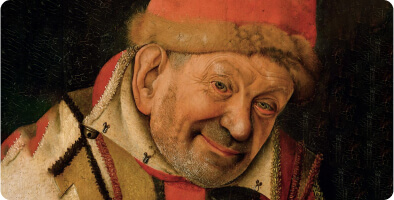 The Court Jester Gonella
This French painting of a jester is attributed to Jean Fouquet. This painting is a bust portrait of an elderly man, showing detail of his brightly coloured outfit, and adding lifelike expression to his smiling features. It is thought that Fouquet created this painting of Gonella when he stopped at the court of Niccolò III d'Este, the Marquess of Ferrara.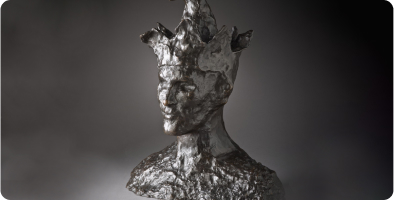 Jester
While not a painting, this bronze sculpture by Pablo Picasso defines a man wearing a fool's hat and slight smile. This work was completed during Picasso's Rose Period and began as a portrait of his friend, Max Jacob. After visiting the Cirque Médrano Picasso used his inspiration to create this artwork of his friend, capturing his playful side.
Jester art and symbolism
There's more to jester art than meets the eye. Beyond the vivid colours and cheerful demeanour, jesters embody a deeper symbolism. They are the embodiment of paradox, the Yin and Yang of the artistic world.
Through their laughter and satire, jesters serve as agents of social commentary, challenging prevailing norms and questioning authority with wit and levity. Their presence in art serves as a reflective mirror, exposing the flaws and contradictions of society, urging contemplation and self-reflection.