Famous Jesters
Jesters played an important role in history, with some of their most notable appearances occurring throughout the Middle Ages. While there are many jesters whose names are recorded in history, there are some jesters whose names will be long remembered for their roles and interesting feats.
Mathurine la Folle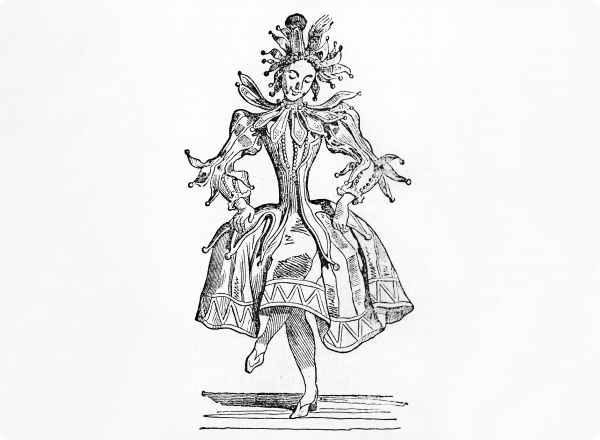 Mathurine la Folle
As one of the few female jesters recorded in history books, Mathurine la Folle is definitely a contender for the most famous female jester of her time thanks to her time at French court. She is thought to have lived between 1589-1627 in France during the reign of three kings, King Henry III, King Henry IV, and King Louis XIII. Mathurine didn't wear the typical motley colours like the typical jesters of the Middle Ages, and instead she wore an Amazon warrior outfit. Mathurine was also a very religious woman and dedicated her jester's Sceptre to God, just as knights would.
Mathurine la Folle is probably best known for her assistance in stopping a man who had tried to assassinate King Henry IV by blocking his passage. The French would-be-assassin, Jean Châtel was later arrested and executed after Mathurine's assistance in stopping his escape.
Will Sommers
William Sommers (also known as Summers or Somers) was a court jester who found his place in the royal court after impressing King Henry VIII of England. Will was introduced to King Henry VIII by Robert Fermor, a rich merchant in 1525.
Will made his name as the most famous jester in Tudor England, he would also go on to serve under King Henry's children, Edward VI, Mary I and Elizabeth I.
It is said that Will had a particularly close connection to the King, especially in his later years when his injured leg pained him. History describes that Will was the only one who could lift the King's spirits. Will made such an impact on the King that he can be seen in several portraits along with the monarch and his family. Thanks to his connection to such a memorable and intriguing monarch of Tudor times, Will Sommers is a name that won't be forgotten.
Will Sommers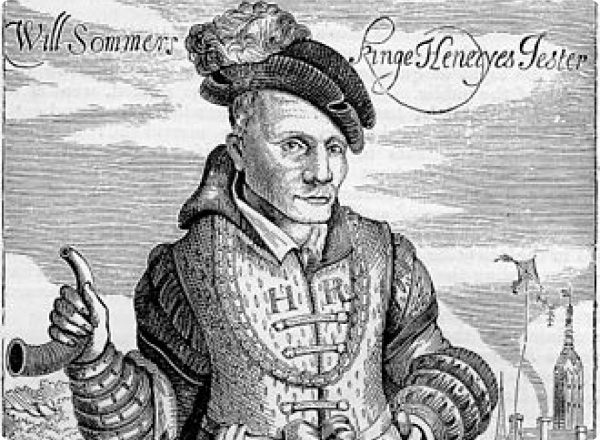 Engraving of Will Sommers by Francis Delaram c. 1615–24
Jane the Fool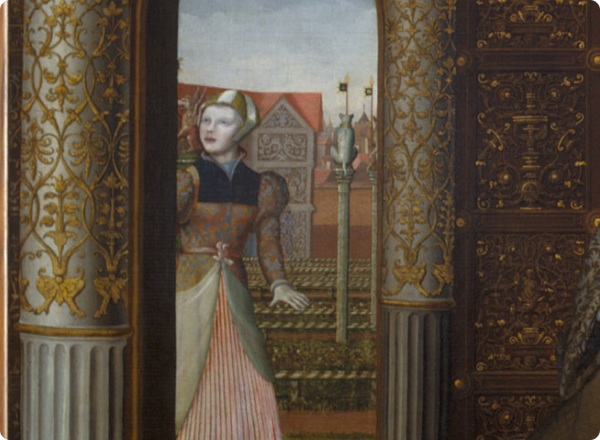 Jane Foole in Henry the Eighth and His Family (1545)
Jane the Fool
Also known as Jane Foole was one of the only female professional jesters during the Tudor times and is well known thanks to her connection to Queen Catherine Parr, Queen Mary I of England, and Queen Anne Boleyn. It is said that Jane only briefly worked for Anne Boleyn before she was beheaded and her relationship with Princess Mary was more of a companionship. Jane's jester uniform consisted of a cap and often a shaved head, at Mary's request.
When King Henry VIII married Catherine Parr, she also cared for Jane the Foole and it is said she gave the jesteress a flock of chickens to care for in her own garden.
Jane is also thought to have a connection to Will Sommers due to their positions in the royal household. Both of these jesters of the King's court can be seen in the painting 'Ideal Family' 1545 by an unknown artist.
Roland the Farter
Roland the Farter was a medieval flatulist during the English court during the reign of King Henry II. The King's fool was known for his unusual talent of farting for the entertainment of the noblemen in court and on the streets. Roland pleased King Henry II so much with his ability that he was gifted his own manor in Hemingstone Suffolk as well as over 30 acres of land.
One of the King's favoured performances was what Roland described as 'Unum saltum et siffletum et unum bumbulum' in Latin. This translates to 'one jump, one whistle, and one fart' and was the closing act to their Christmas performances.
Roland the Farter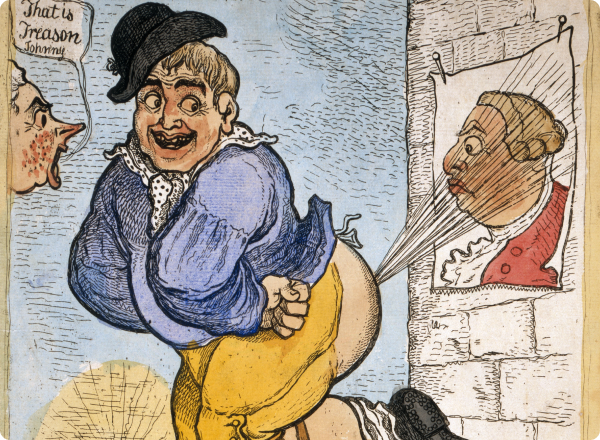 Political humor, in flatulent form, from 1798
Stanczyk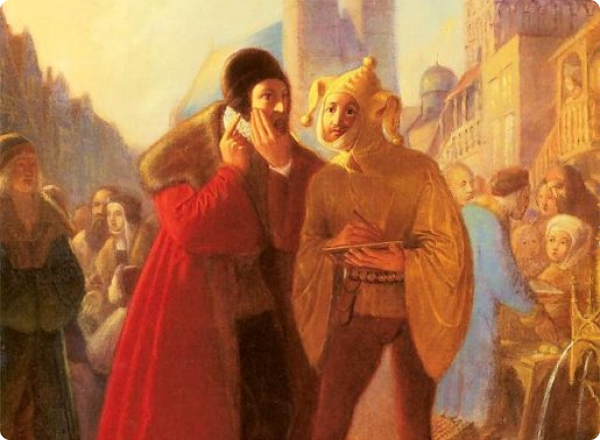 Zeby Stanczyka by Jan Matejko
Stanczyk
Stanczyk (1480-1560) was a Polish jester who served in the courts of king Alexander, King Sigismund the Old, and King Sigismund Augustus.
While there is not a lot of information about his life as a court jester, he is well known for the painting named 'Stańczyk during a Ball at the Court of Queen Bona in the Face of the Loss of Smoleńsk' by the Polish painter Jan Matejko in 1862. This painting is often linked to the classical image of jesters in history, although may not be an accurate representation of what Stanczyk actually looked like.
What is known about Stanczyk is his sharp wit and clever humour. The best known tale of Stanczyk is a hunting incident involving a huge bear. The King ordered the bear be released so he could hunt it down for sport, however the bear charged at the King and his hunting party. Queen Bona fell from her horse and caused a miscarriage of her pregnancy, Sigismund the Old blamed Stanczyk for this, as he had run away from the attack. To this the jester replied, 'It is a greater folly to let out a bear that was locked in a cage'.
Dongfang Shuo 東方朔
Dongfang Shuo (154-92 BCE) was a Chinese jester, actor and entertainer during the Han dynasty under emperor Wudi. The Chinese term for jester varies slightly from the Western interpretation, typically a Chinese jester was an actor, dancer, entertainer or simply one who could tell jokes.
Shou was more than just a typical Chinese jester, he was considered an immortal according to some legends due to his status and elaborate riddles he would create.
Shou would often say controversial riddles and jokes to please the emperor when in the right mood and as seen in Western culture, he often had an attentive audience.
Dongfang Shuo 東方朔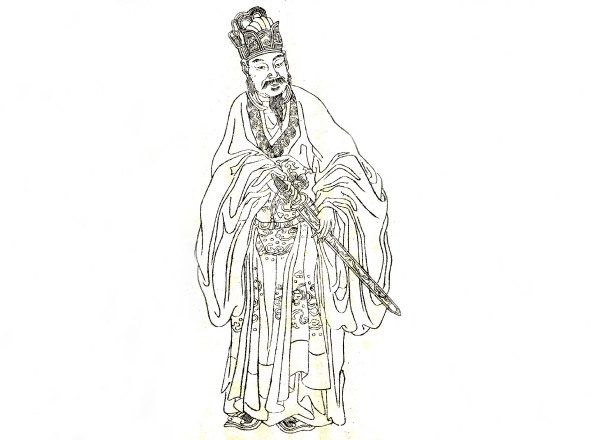 Jeffery Hudson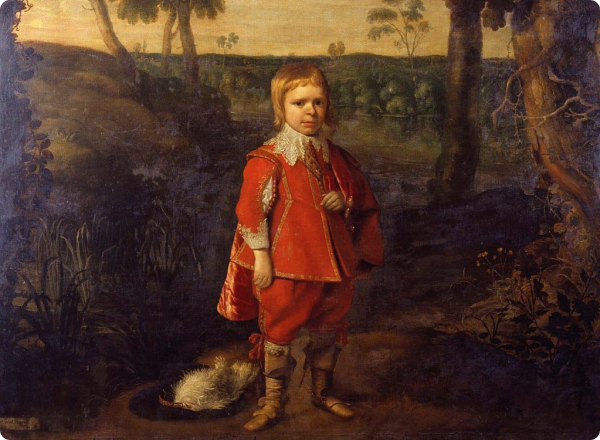 Daniel Mytens | Hudson in the woods (circa 1627-30)
Jeffery Hudson
Jeffery Hudson (1619-1682) was a gift to Queen Henrietta Maria in the court of England and he made his debut at seven years old by jumping out of a pie before the court dressed in a suit of armour. When he first appeared before the Queen, Hudson only stood at 18 inches tall. Being a dwarf the role of a jester was one of the few trades they were welcomed in, and his role allowed Hudson to escape the poverty he had been born into.
Hudson stayed by the Queen's side and the two would form a long lasting bond even after the civil war began in 1642. When the Queen fled to France to avoid the turmoil in 1644, Hudson stayed at her side. It was when they arrived in France that Hudson challenged Charles Crofts to a duel in anger and killed the man with a pistol. Henrietta Maria was forced to banish Hudson from her court because of his actions, but his story doesn't end there.
While on a ship back to Britain, they were attacked by pirates and for the next twenty-five years he was enslaved. In the year 1669 Hudson made his way back to England, though by that time Charles II was king and the court he knew was long gone. When Hudson arrived in London he was recognised and thrown into jail for his association with the Catholic Queen Henrietta Maria and would eventually be released. Hudson died years later, living out the remainder of his life as a pariah and a long way from his court jester's role.
Mosen Borra
Mosen Borra, also called Antoni Tallander or simply Borra, was born in Barcelona in 1358. He would become known for the jester's role that would ultimately lead to his king's death. When King Martin I of Aragon became ill, Borra attended his side ensuring that he had sufficient entertainment from his bedside. Borra told the king a joke in an attempt to lift his spirits, but instead the simple joke had fatal consequences.
"In the next vineyard, where I saw a young deer hanging by his tail from a tree, as if someone had punished him for stealing figs."
It's said that the king laughed for three hours at the joke before he tumbled from his bed and died.
Mosen Borra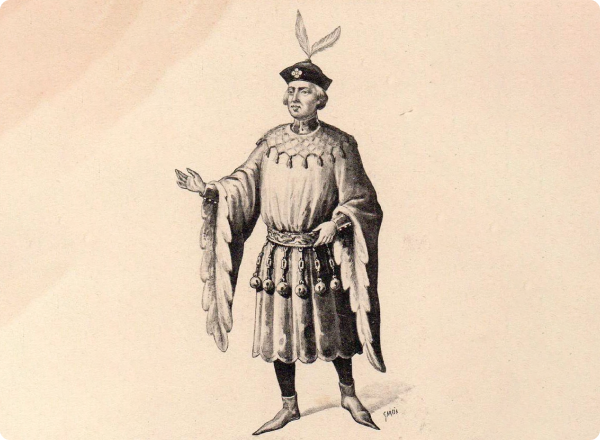 Postcard Illustration of Antoni Tallander (1906)
Triboulet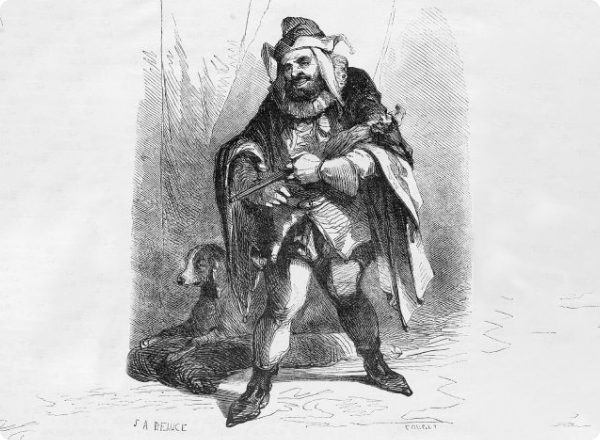 "Triboulet"; illustration for Le Roi s'amuse by J. A. Beaucé and Georges Rouget
Triboulet
Nicolas Ferrial (1479-1536) also known as Triboulet was a French court jester during the reign of Kings Louis XII and Francis. He was said to have short legs and long arms, leading many in his audience to claim he resembled a monkey as he clowned around. While being a natural fool who possibly suffered from a condition called microcephaly (a condition that causes reduced head and brain size from birth), he was a witty jester who never missed an opportunity to have the last word.
While working in the court of King Francis I, Triboulet went as far as slapping the king on the bottom. Francis however, didn't find this amusing and ordered Triboulet to be executed or apologise. Triboulet simply said, "I'm sorry, your majesty, that I didn't recognise you. I mistook you for the Queen".
Francis was even more furious at the expense of his wife and was ready to send Triboulet to the executioner's block. As his jester had served him faithfully for years, he gave Triboulet the option to choose his manner of death. Triboulet witty as always replied, "I choose to die from old age". Francis reportedly was so amused that he instead banished Triboulet, saving him from execution.
Twisty Pole
Twisty Pole was a jester of the Chinese Imperial court under Emperor Qin Shi Huang. Twisty Pole is a translation from Yu Sze and followed the unusual convention of Chinese Jesters and their names such as Moving Bucket and Newly Polished Mirror. Twisty Pole is best known for saving thousands of men during the construction of the Great Wall of China.
The Emperor wanted to paint the wall and Twisty Pole said it was a good idea, but they would have trouble finding a drying room large enough for the paint to dry. The Emperor was amused and would abandon his plan, saving any more lives from being lost in the construction.
Twisty Pole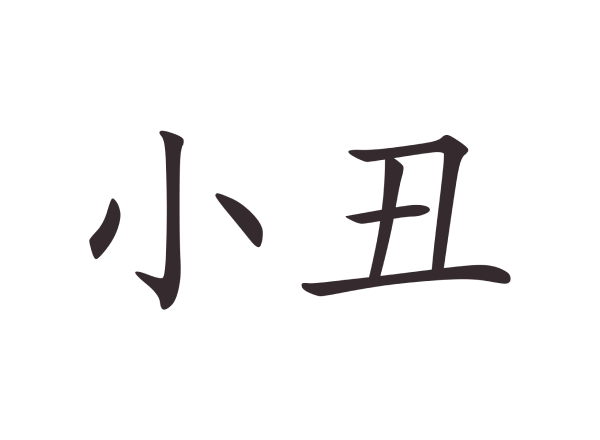 "Jester" in Chinese Calligraphy
Turold and Taillefer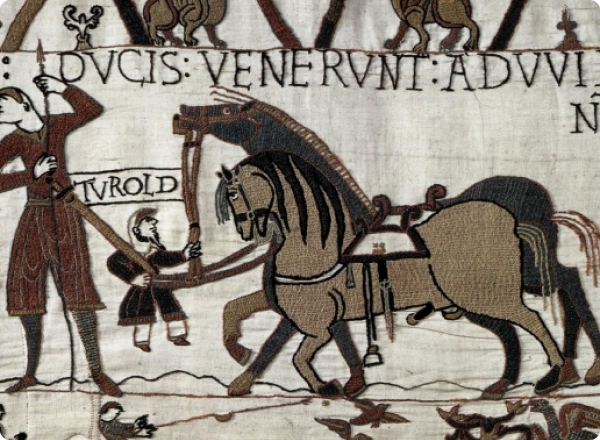 Turold depicted in the Bayeux Tapestry
Turold and Taillefer
These Celtic Irish jesters are immortalised in the Bayeux Tapestry that depicts the Norman conquest over England in 1066. Turrold was a dwarf jester who joined the ranks of the warriors for this particular battle. Taillefer taunted the enemy with songs and even rode out on his horse, juggling a sword to tease the enemy troops. He managed to kill one of the solides who ran at him, but he was then killed after he rode his horse directly into the main force of the English.
From their impact on keeping their audience laughing to personal companions for reigning monarchs, famous court jesters play an interesting part in history. Learn more about the long history of the wise fool and the official jesters on our jester history page.