Famous Jesters
Jesters played an important role in history, with some of their most notable appearances occurring throughout the Middle Ages. While there are many jesters whose names are recorded in history, there are some jesters whose names will be long remembered for their roles and interesting feats.
Mathurine la Folle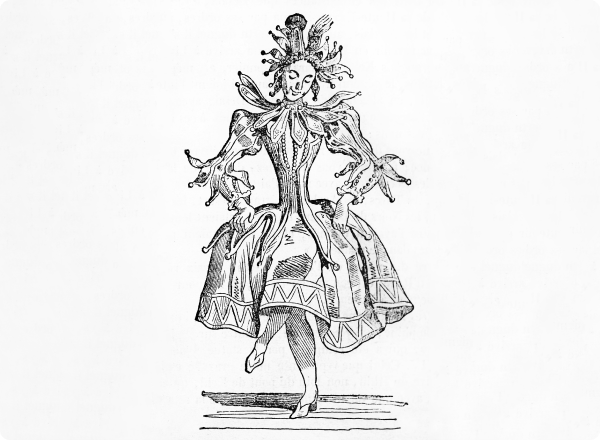 Mathurine la Folle
As one of the few female jesters recorded in history books, Mathurine la Folle is definitely a contender for the most famous female jester of her time thanks to her time at French court. She is thought to have lived between 1589-1627 in France during the reign of three kings, King Henry III, King Henry IV, and King Louis XIII. Mathurine didn't wear the typical motley colours like the typical jesters of the Middle Ages, and instead she wore an Amazon warrior outfit. Mathurine was also a very religious woman and dedicated her jester's Sceptre to God, just as knights would.
Mathurine la Folle is probably best known for her assistance in stopping a man who had tried to assassinate King Henry IV by blocking his passage. The French would-be-assassin, Jean Châtel was later arrested and executed after Mathurine's assistance in stopping his escape.
Will Sommers
William Sommers (also known as Summers or Somers) was a court jester who found his place in the royal court after impressing King Henry VIII of England. Will was introduced to King Henry VIII by Robert Fermor, a rich merchant in 1525.
Will made his name as the most famous jester in Tudor England, he would also go on to serve under King Henry's children, Edward VI, Mary I and Elizabeth I.
It is said that Will had a particularly close connection to the King, especially in his later years when his injured leg pained him. History describes that Will was the only one who could lift the King's spirits. Will made such an impact on the King that he can be seen in several portraits along with the monarch and his family. Thanks to his connection to such a memorable and intriguing monarch of Tudor times, Will Sommers is a name that won't be forgotten.
Will Sommers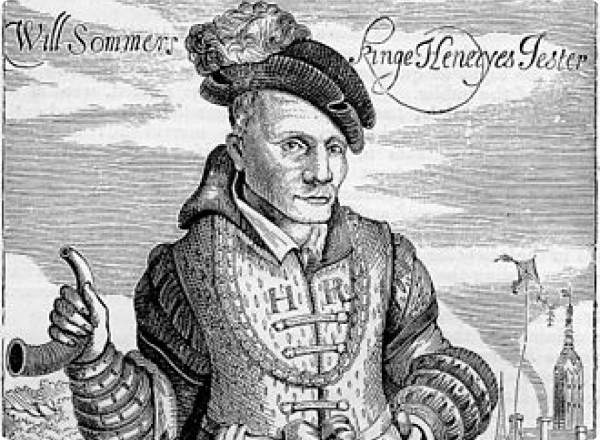 Engraving of Will Sommers by Francis Delaram c. 1615–24
Jane the Fool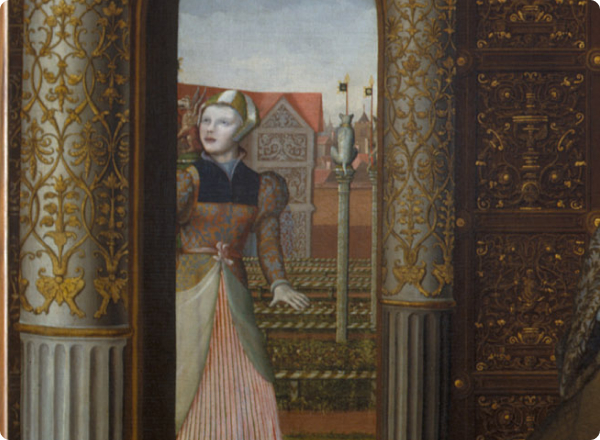 Jane Foole in Henry the Eighth and His Family (1545)
Jane the Fool
Also known as Jane Foole was one of the only female professional jesters during the Tudor times and is well known thanks to her connection to Queen Catherine Parr, Queen Mary I of England, and Queen Anne Boleyn. It is said that Jane only briefly worked for Anne Boleyn before she was beheaded and her relationship with Princess Mary was more of a companionship. Jane's jester uniform consisted of a cap and often a shaved head, at Mary's request.
When King Henry VIII married Catherine Parr, she also cared for Jane the Foole and it is said she gave the jesteress a flock of chickens to care for in her own garden.
Jane is also thought to have a connection to Will Sommers due to their positions in the royal household. Both of these jesters of the King's court can be seen in the painting 'Ideal Family' 1545 by an unknown artist.
Roland the Farter
Roland the Farter was a medieval flatulist during the English court during the reign of King Henry II. The King's fool was known for his unusual talent of farting for the entertainment of the noblemen in court and on the streets. Roland pleased King Henry II so much with his ability that he was gifted his own manor in Hemingstone Suffolk as well as over 30 acres of land.
One of the King's favoured performances was what Roland described as 'Unum saltum et siffletum et unum bumbulum' in Latin. This translates to 'one jump, one whistle, and one fart' and was the closing act to their Christmas performances.
Roland the Farter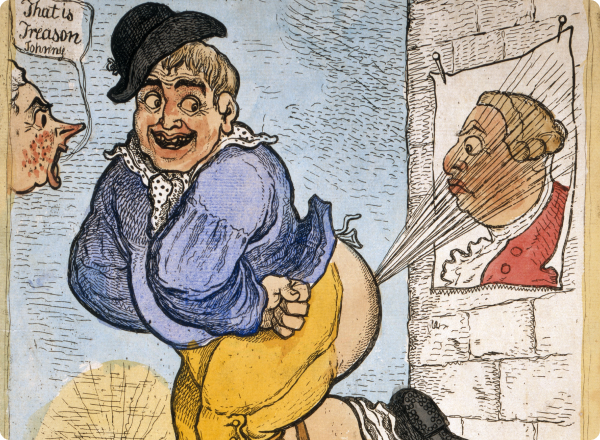 Political humor, in flatulent form, from 1798
Stanczyk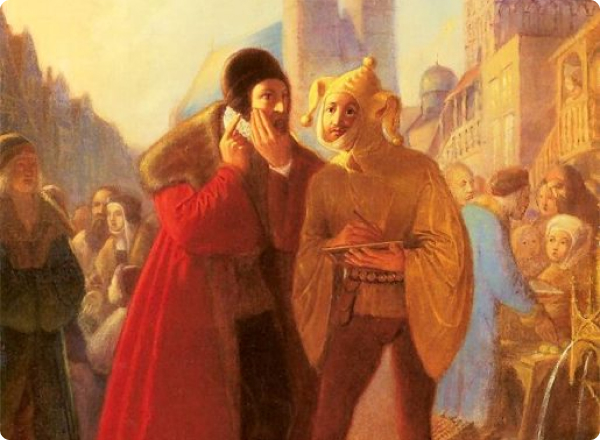 Zeby Stanczyka by Jan Matejko
Stanczyk
Stanczyk (1480-1560) was a Polish jester who served in the courts of king Alexander, King Sigismund the Old, and King Sigismund Augustus.
While there is not a lot of information about his life as a court jester, he is well known for the painting named 'Stańczyk during a Ball at the Court of Queen Bona in the Face of the Loss of Smoleńsk' by the Polish painter Jan Matejko in 1862. This painting is often linked to the classical image of jesters in history, although may not be an accurate representation of what Stanczyk actually looked like.
What is known about Stanczyk is his sharp wit and clever humour. The best known tale of Stanczyk is a hunting incident involving a huge bear. The King ordered the bear be released so he could hunt it down for sport, however the bear charged at the King and his hunting party. Queen Bona fell from her horse and caused a miscarriage of her pregnancy, Sigismund the Old blamed Stanczyk for this, as he had run away from the attack. To this the jester replied, 'It is a greater folly to let out a bear that was locked in a cage'.
From their impact on keeping their audience laughing to personal companions for reigning monarchs, famous court jesters play an interesting part in history. Learn more about the long history of the wise fool and the official jesters on our jester history page.