The Court Jester
When most people think of a jester, they think about the Medieval entertainer who wore a funny hat and kept guests happy on behalf of the king or queen. This court jester, while not the only type of jester throughout history, is easily the most popular type of fool. However, the court jester was much more than a silly entertainer or actor. Instead, these fools were quite an important part of royal life and often influenced rulers on key decisions.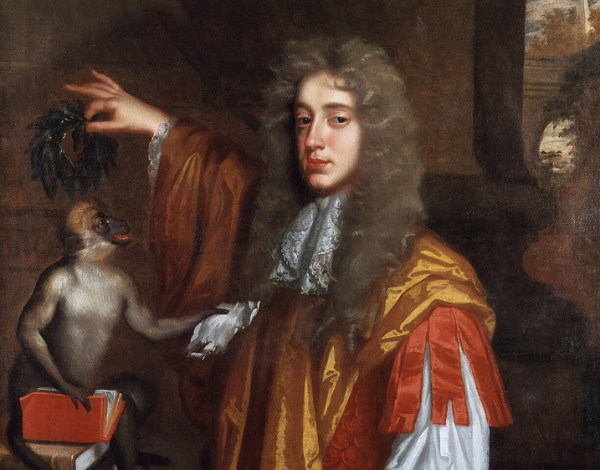 John Wilmot – After Jacob Huysmans, Public domain, via Wikimedia Commons
The History of Court Jesters
Royalty throughout Medieval England wanted to find new ways to entertain guests in the palace, gain favor with other members of the monarchy, and remind others of their wealth and place in society. One way to do this was to ensure their gatherings were quite the affair, complete with plenty of alcohol and food. However, the booze and food weren't always enough, so royals began to seek out instrumentalists and other entertainers.
Soon enough, royal courts were employing jesters, entertainers who could wow a crowd by playing an instrument, juggling, singing, or telling jokes.
Court jesters were hired if they were able to maintain the attention of a crowd and keep guests entertained. Nearly every monarch in England and throughout Europe employed at least one court jester.
What jesters did?
From juggling and storytelling to political intrigue and tomfoolery, the jester was a multifaceted character that played an interesting part in history. There were many diverse types of jesters throughout history, however both the licensed fool and the natural fool had an interesting array of skills they implemented in their roles.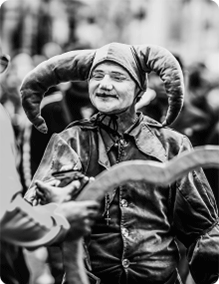 Who were jesters?
Most recognise them from their motley clothing and cap 'n bells, but who were these characters that juggled their way through history? From festivals and taverns to the royal court or the battlefield, not all jesters were simple entertainers. Indeed, jesters can be traced back to ancient times and can be found throughout history all around the world.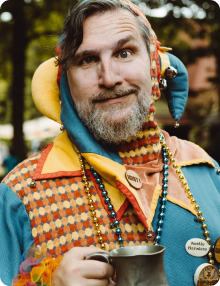 Famous Court Jesters
Believe it or not, the court jester of a particular royal family was something just as popular as the royalty! For example, Henry VIII of England hired a jester named Will Sommers. Will was able to entertain guests and the King, though he sometimes did get himself in trouble by pushing the envelope too much with his jokes. In fact, the King himself threatened to kill Will for something Will said about Queen Anne and Princess Elizabeth. The King had a change of heart though and Will was soon in his good graces again.
Will used his good position with the king to help out Will's uncle. When his uncle had some financial trouble due to a land issue, Will Sommers appealed on his uncle's behalf to the King. The King agreed to help out his uncle. As the King grew older, he lived with significant pain in his legs. When he would be in pain, the court knew that only Sommers could lift his spirits and make him laugh.
Will became a crucial part of Henry VIII's court, staying in employment with the family even after Henry VIII died. Eventually, Will retired during the reign of Elizabeth I.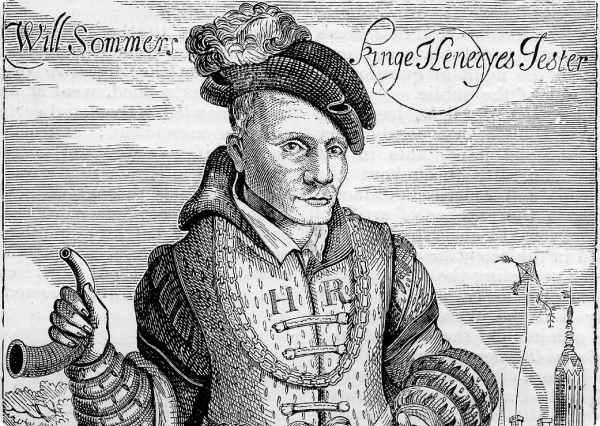 Engraving of Will Sommers by Francis Delaram c. 1615–24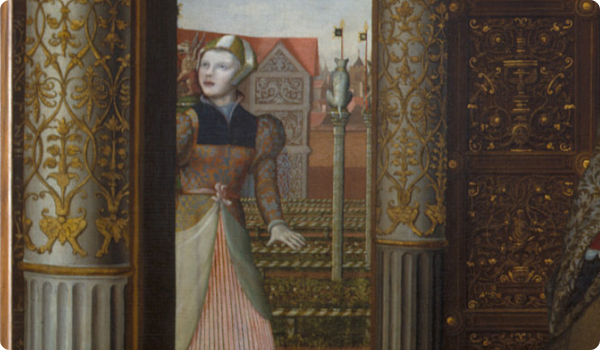 Jane Foole in Henry the Eighth and His Family (1545)
Court jesters weren't just males. One of the most famous ones was a lady. Henry VIII's daughter Mary wanted an entertainer of her own. Jane Foole became perhaps one of the most well known entertainers in royal history. During her tenure in the court, Jane (sometimes known as Jane the Foole or The Queen's Fool) served many queens: Catherine Parr, Mary I, and possibly Anne Boleyn.
Jane often performed alone, but she was also known for her partnerships.
It was rumored but never confirmed that she was married to jester Will Sommers. While they may not have been married, they commonly performed together for the court. Mary also employed Lucretia the Tumbler, another female fool. The two performed together often as well.
A day in the life of
Turpis ullamcorper aliquam risus vitae in. Neque in magna in urna et malesuada egestas aenean. Dictum sit nisi, bibendum suspendisse at tempus arcu, aenean. Risus dui, sed mattis duis dolor.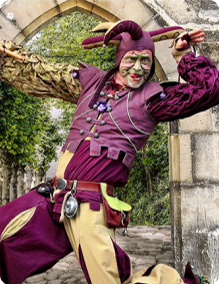 Appearence
Turpis ullamcorper aliquam risus vitae in. Neque in magna in urna et malesuada egestas aenean. Dictum ultrices sit nisi, bibendum suspendisse at tempus arcu, aenean. Risus dui, sed duis dolor.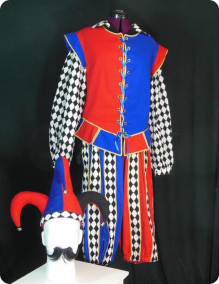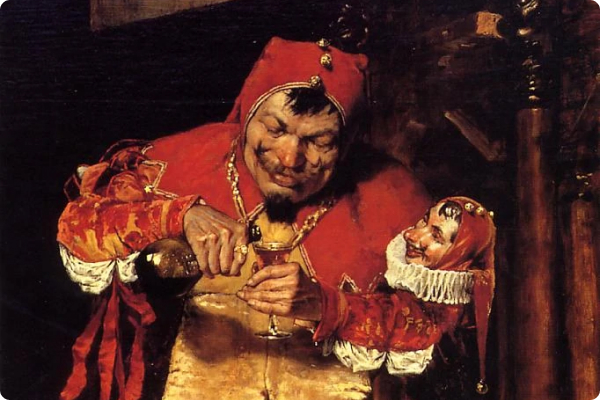 The Court Jester in Scotland
Of course, it wasn't just England royal courts who were employing entertainers. Scotland was also known for its famous jesters. Mary, Queen of Scots, for example, employed a jester named Nichola while her son, King James VI, hired Archibald Armstrong as his entertainment.
Armstrong was famous throughout the country and he gained favor among the King and other royalty. In fact, he was given great honors in the court for his influence. However, not everything is meant to last forever especially when jesters are known for their provocative comedy. Armstrong was fired from King James VI's court for making fun of one too many influential people. While it was a disgrace, people were still fascinated with Archibald Armstrong. People wrote books about him and he ended up serving Charles I.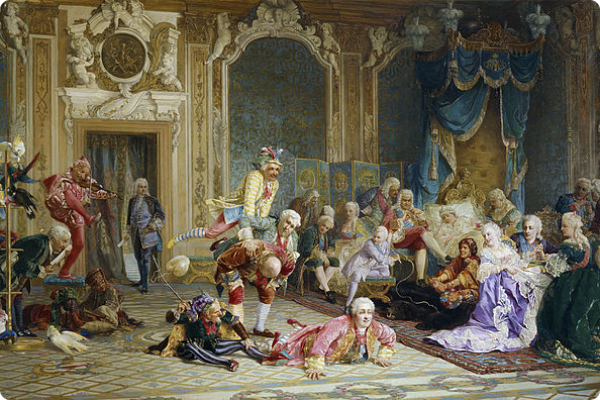 Jesters of empress Anna Ioanovna by V.Jacobi (1872)
The End of the Party
Royal courts throughout Europe loved their court jesters. However, the party didn't last forever. Eventually, King Charles II stopped the tradition entirely after the Restoration. He chose to not hire a fool for his court, but that didn't mean he didn't support entertainment and creative artists in other ways. Charles II is noted in history as a supporter of musicians and music hall entertainers. Charles II did employ a man named Thomas Killigrew, who was an entertainer though not officially a jester, in the court.
While the official tradition was dead, jesters found a way to keep entertaining crowds. They started gathering together and forming traveling groups where they would stop from town to town to perform for crowds that gathered in the square. These traveling troupes brought their signature political humor, gymnastics, music, and stories, to groups of people who had never had the chance to experience it. Soon, an entirely new audience was born.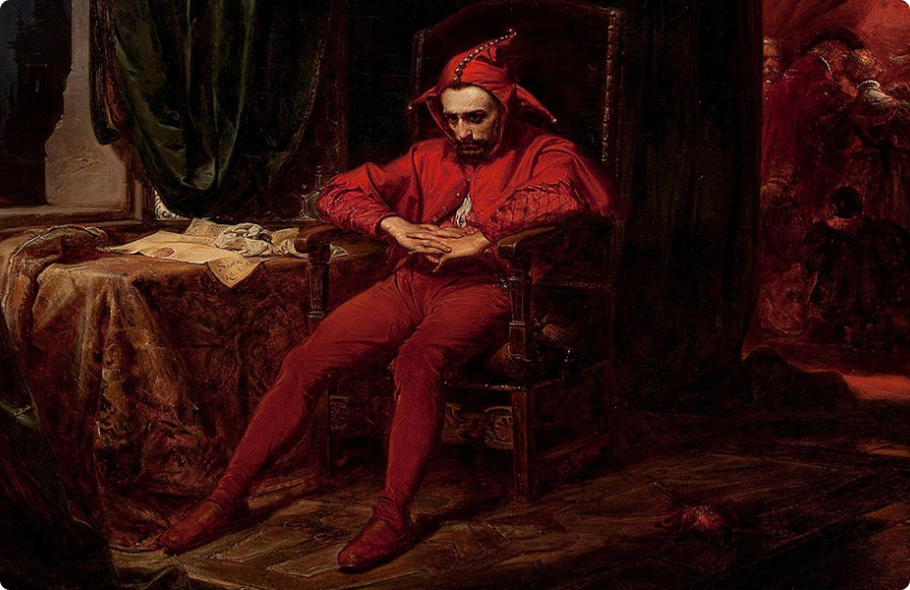 Stańczyk during a ball at the court of Queen Bona in the face of the loss of Smolensk by Jan Matejko
The Mystery Lives On
People today still love parts of the Medieval era, royal court, and monarchy of the past. Jesters, of course, are a big part of the fascination. You can find people dressed up as jesters in Renaissance gatherings as well as in modern literature. In 2004, author Philippa Gregory wrote a historical fiction novel called The Queen's Fool. It is set in the court of Mary I of England but does not focus on Jane. Instead, there is a fictional jester named Hannah Green who entertains the Queen. The book does mention Will Sommers though, as a mentor for Hannah.
You can still find new interpretations of jesters in the past on tv shows, in films, and throughout your web browser. For example, the movie, The Court Jester, hit the theater in 1955 but is still popular today.
The film, which is about a carnival performer masquerading as the court jester as the part of a plot to foil an evil ruler who has overthrown the rightful king, stars Danny Kaye, Glynis Johns, and Basil Rathbone. The movie was popular when it came out and is still somewhat of a cult classic with famous quotes like "The pellet with the poison's in the vessel with the pestle; the chalice from the palace has the brew that is true!" How's that for a tongue twister?
It seems that the jester tradition continues to find new ways – and new arts – to entertain the masses.